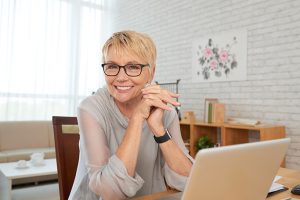 Some dreams do come true, like the one where you are working on a laptop that's literally on your lap while you sit at home dressed in your comfortable sweats, sipping coffee from your favorite mug. For many employees, the work-from-home experience has become the new normal. COVID restrictions prompted corporations to quickly adopt new remote work policies, with employees meeting on video calls rather than in person.
Is the move to remote workforces a temporary fad or a significant change in how businesses will operate in the future? Experts say it will be a hybrid environment combining remote workforce users expecting to work from home 1-2 days a week initially.
But a remote work setting comes with IT challenges. How can your business successfully support this new environment? What best practices should your company adopt to address these IT issues?
Digital Security
In the office, employees work behind multiple layers of data security controls, but working outside that environment puts your company's network at higher risk of a cyber-attack. Use of public Wi-Fi makes your employee's data vulnerable to other users of the same public network; individuals with malicious intent could monitor the network traffic.
Consider adopting the following digital security guidelines:
Set up encrypted remote connections for your employees' use. Connection types such as RDP, HTTPS, and SSH, provide encryption in their service direction. These services do not need an additional VPN connection to protect in-transit data.
Encrypt sensitive data attached to emails. Store all data on employee devices in encrypted form to protect sensitive information in the event of device thefts, and send that data via email in encrypted form.
Do not use personal computers for work. Savvy businesses protect the security of their work computers with secure Wi-Fi connections, encrypted data, a VPN, anti-virus software, and endpoint protection. These organizations employ IT teams or outsource their IT management to reputable consultants who regularly install updates to higher end data security software, schedule regular antivirus scans, and perform network penetration tests. Using a lesser protected personal computer, opens the company to significant risk, often violating corporate policies and practices.
Productivity
The new work-from-home environment forces employees and management to communicate and collaborate in new ways. No longer able to walk a few steps to a colleagues' cubicle, workers rely on email, video conferencing, and collaboration software to communicate with their teams. Adopt this best practice to enable productivity:
Provide an effective technology stack. Support your remote teams with reliable voice, video, collaboration, and secure file-sharing software. Keep these applications updated and provide effective Help Desk services.
IT Support
In a 9-to-5 work environment with all employees working from the corporate office, a small IT team could adequately support the business' needs. However, an added benefit to working remotely is often a flexible work schedule with employees working outside normal business hours. Companies doing business in multiple time zones need their employees to connect outside the 9-to-5 window. To maintain productivity for a remote workforce, a business must provide these employees with ad-hoc on-call support during business hours. Here are a few guidelines to keep in mind:
Provide tools for effective IT support. Your IT Help Desk must serve your employees' needs at all hours of the day. In addition, the Help Desk technicians must be able to remotely "see" your employees' desktops to assist in changing passwords, updating applications, or assessing any IT issues. The Help Desk tech must have tools to remotely control a desktop and share a screen, file or camera.
Ensure your IT support team is well trained on the latest data security and collaboration software applications. Provide a team of IT technicians who not only can support the tools your employees need, but they also can recommend, install and maintain the latest solutions.
While working remotely may be a dream-come-true for employees, the new work from-home environment can prove an IT nightmare for employers. Businesses should consider adopting IT best practices to ensure data security, employee productivity, and effective Help Desk support. To learn more about the latest tools for supporting an effective work-from-home IT environment, consider enlisting the services of an IT consulting group. These professionals can not only set up an effective IT infrastructure, they can also maintain it and provide support for your remote workforce.